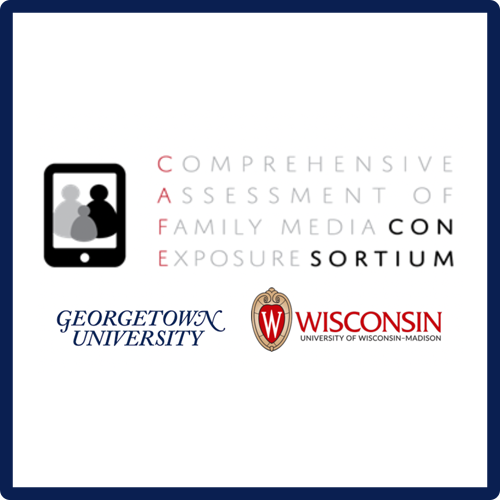 Do you ever wonder how much media is used within your household? The Comprehensive Assessment of Family Media Exposure (CAFE) Consortium is a team of researchers with specialties in psychology, pediatrics, communications, and human development. The goal of the Consortium is to more accurately measure media usage within households and to examine the effects of early media exposure on development.
The CAFE Emu study is a joint project between Georgetown University and the University of Wisconsin-Madison. Over the course of one week, parents will be asked to complete daily online surveys and to install a passive sensing app (Chronicle for Androids and Screen Time for Apple devices) on their mobile device. CAFE Consortium works in conjunction with Open Lattice and their products, Chronicle and the Time Use Diary, which were specifically developed for CAFE.
Where does it take place?
This study is virtual, and can be completed from the comfort of your own home.
Will there be compensation?
At the end of the 7 day commitment, you will receive compensation corresponding to your level of engagement up to a $50 gift card.
What is the time commitment?
This is a 7 day study, with short surveys multiple times per day that shouldn't take more than a few minutes each.
Will my data be confidential?
Yes, all data recorded by the ELP is completely confidential. We will not publish individual data but data compiled across multiple families in the study.
What if I have an issue?
We will send each participant a troubleshooting FAQ document after signing up, and we will meet with anyone who needs technical assistance.
Interested in participating in one of our studies?