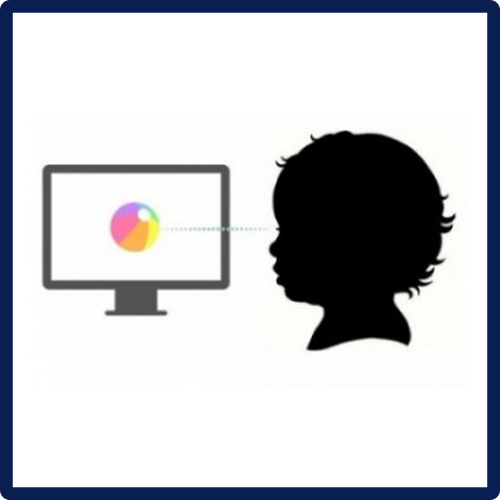 See more details about how this visit will go in the video below!
Ages: 6 to 9 months & 12 to 14 months
In the early stages of life, we begin to make sense of the world through our eyes. At the Early Learning Project, we are interested in looking at how young children attend to the information in the world.
For this study we use an eye tracking device, which is an instrument that is widely used among infant and child researchers studying perceptual, cognitive, and social-emotional development.
Participation in this study will involve:
A short visit to the Georgetown University campus, which will last about 45 minutes to an hour. 
Your child will watch a series of short videos while sitting on your lap in front of a computer monitor that allows us to track their eye movements.
We will also play with some toys while we record the session to understand how young children learn.
Before the in-person visit, we will have a 20-25 minute phone call with you to discuss your infant's language exposure background.
You will receive a $20 Amazon e-gift card for each visit, as well as a small gift for your child!
Where does the eye-tracking study take place?
On the Georgetown University main campus in Washington, DC in White Gravenor Hall. There is a dedicated parking spot available outside our building
What is the time commitment and age range for this study?
There are two visits that take less than an hour. The first visit is when your baby is 8-9 months old and the second is between 13 and 14 months. .
Will my child's data be confidential?
Yes, all data will be kept confidential. We will not publish individual data but data compiled across multiple families in the study.
Is there compensation for my participation?
Yes! You will get a 20 dollar gift card for your participation in the eye tracking study.
Want more information or have other questions?

Please contact us at earlylearning@georgetown.edu.
Interested in participating in one of our studies?